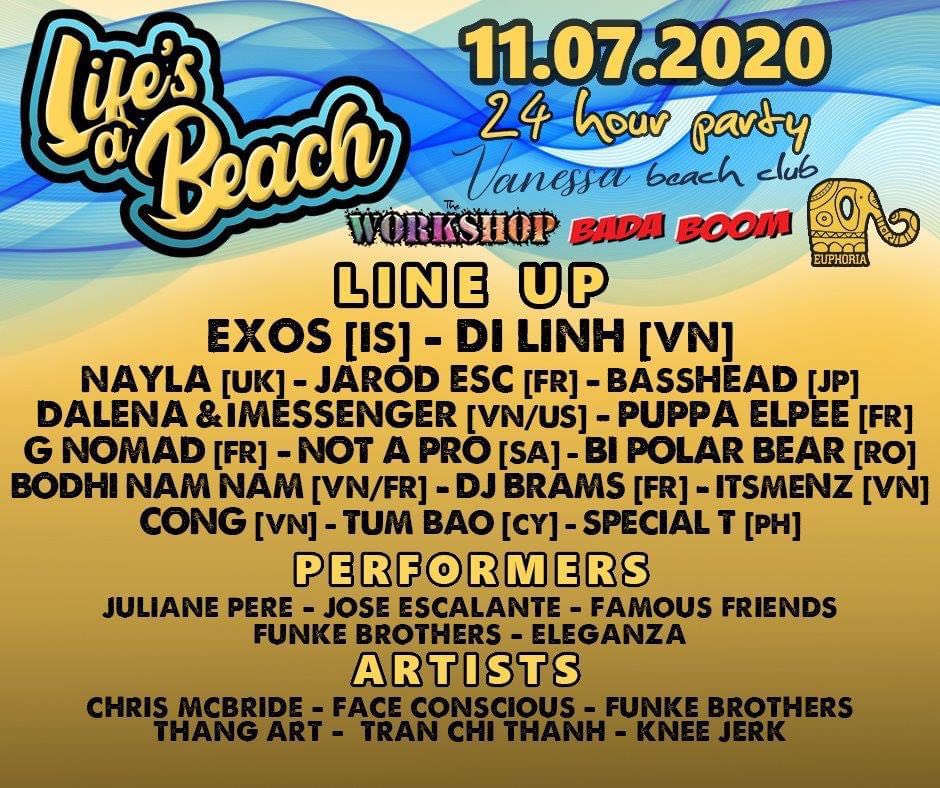 Life's A Beach is the summer party we've been all waiting for!! Join us for a unique experience with music, arts, performances and good vibes all around! 🏊‍🏖
After building a reputation of throwing some of the most creative events in Da Nang, The Workshop and Badaboom have teamed up to bring 24 hours of music with the finest DJs based in Vietnam and beyond, fire dancing, acrobatic performances, market stalls and other activities.
We are delighted to welcome Icelandic Techno legend DJ EXOS, one of the most experienced techno DJs and producers since the mid-90s.
The event will take place at Vanessa Beach Club, halfway between Da Nang and Hoi An, a dream-like location with 2 big swimming pools that we will transform to bring that festival vibe right to our local beach.
The Workshop and friends will offer you the most delicious food, cocktails, beers and mixed drinks with a very reasonable price.
We have free shuttle bus pick up in Da Nang and An Bang, follow the event page for more details.
Are you ready to enjoy a weekend full of sun, beach and loads of fun?
Early bird tickets (limited to 300 tickets only): 200k VND
Combo ticket & room : 1000kVND/ 2 people
At the door: 250k VND
Tickets available at The Workshop or through Badaboom, Marmite Social Club, Vanessa beach club.
You can also buy tickets online through this link:
https://www.euphoriavn.com/tc-events/lifes-a-beach/
𝐋𝐢𝐧𝐞 𝐔𝐩
– EXOS [IS] (Трип, Figure, Planet X)
https://www.residentadvisor.net/dj/exos/biography
– Di Linh [VN] (HUM)
https://www.facebook.com/DiLinhOfficial
– Nayla [UK] (Studio Adventure / On Point WorldWide)
– Jarod Esc [FR] (Marmite Social CLub / Escaped Records HK)
– bassHEAD [JP] (Zipang / P.M.C.)
– Dalena & iMessenger [VN/US] (Da Nang Underground)
– Puppa Elpee [FR] (Banana Hustle / Saigon Dub Station)
– G Nomad [FR] (Banana Hustle / Badaboom)
– not a pro [SaFa] (AM:PM)
– Bipolar Bear [RO] (Badaboom)
– Bodhi Nam Nam [VN/FR] (In Tune /M.S.C.)
– DJ Brams [FR]
– ItsmeNz [VN] (P.M.C.)
– Cong [VN] (Euphoria VN)
Follow the event page on: