HUM Interviews series, a new way to share a deeper perspective around Music & Art. For the #1 article, we are really happy to present Lian Sommer & Travis Cohantz as visual artists, who have been actively involved in the music scene lately, bringing the adventure to a whole new level.
Through this conversation, we will understand much more from their personal point of view about what is behind their job, how they build everything indivisualy and also experience a new journey together. Enjoy the full interview.
Photo Credit by Julz Cruz Capture.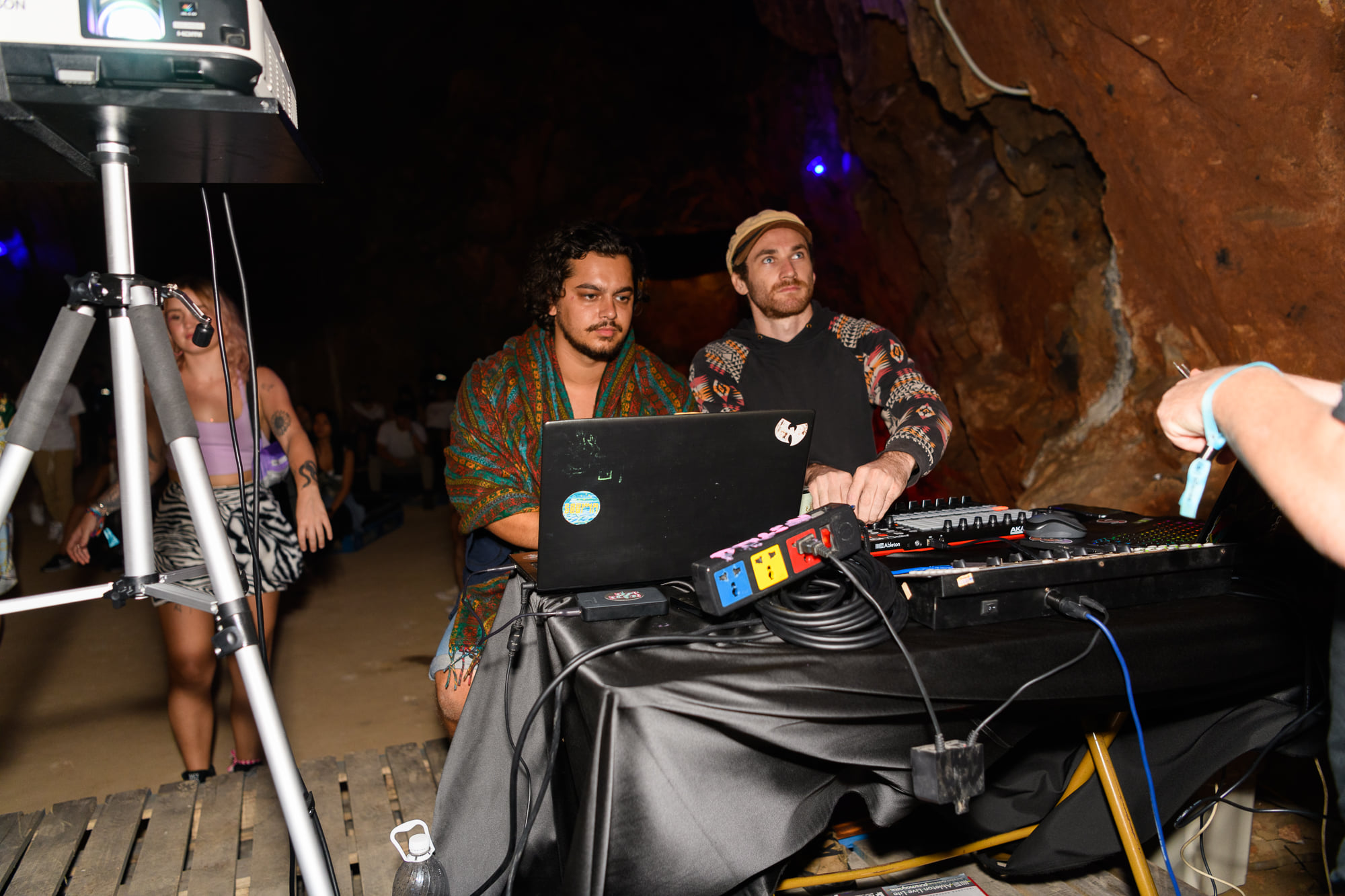 So let's start with your journey, what led you to become a visual artist?
Lian: As long as I can remember, I have always been drawing. As a young child, I started drawing my favorite anime characters like Son Goku and Vegeta. Later on, I experimented with Graffiti and more traditional forms of painting. In school, my art teacher told me to pursue visual art after school. He gave me a better grade than I honestly deserved that year just so I would choose an artistic path after I left his class. After school I started studying communication design where my professor continuously pushed me out of my comfort zone. There I started experimenting with video and digital design.
Travis: I started exploring 3d design and animation in my free time back in California. This began during a period where I felt directionless and empty, unable to imagine a fulfilling, meaningful future for myself in America. The truth is, I spent most of my life without a clear sense of "passion," but something about 3d drew me in and absorbed my attention. So I decided to move to Vietnam, remove myself from the stifling environment of familiarity and comfort, and keep teaching myself, all with the hope of making a living off this newfound artform. When I arrived in Hanoi, I jumped at an opportunity to be involved in the building team for the Treehouse Festival, and from there began meeting all the wonderful creatives that bring this scene to life. Ben Gelbard was the one who originally introduced me to Resolume, a VJ software, as he wanted to explore how to include projections and visuals at the events, and I immediately saw it as an application for my own animations. Working the events with the Defused Mood crew was all about trying new things and pushing the bar. Nobody pretended to be an expert in anything, nobody was superior. It was in this playful, creative, sandbox atmosphere where I started diving into VJing. I think it was Bloom Villa, where I had my first hands on experience at a live show. We were literally learning on the job, making countless mistakes, and having an absolute blast doing it. I'm eternally grateful for the opportunities and support given to me by that team of people, I wouldn't be where I am today if it wasn't for them.
What is the relationship between music and visuals and how important it is to connect your feelings with the project?
Lian: Music has always been a big part of my life. Again, back to my old art teacher who pushed me to pursue visual arts. He did so because he heard me saying that I might go on into music after school but he saw more potential for me in visual arts. I have been playing music since I was 14 years old and for a time I was a pretty decent Guitarist. These days I rarely play the Guitar. But my love for music never stopped. From all the creative projects I have worked on, the once with music involved have always been the most fun for me. Even if it's like a corporate video or something like that. I could be bored as hell but as soon as I add music and edit the video to the beat I enjoy the process again.
Travis: For me, feelings are everything when Vjing. When you engage with music, the experience is almost always emotional, and my goal as a VJ is to capture that emotion and reflect it in a harmonious manner. In an environment where people are often exploring altered states of consciousness, I think this harmony between sound and visuals is critical to delivering powerful and engaging experiences. There are a wide range of options at a VJ's fingertips to deliver a vibe. Sometimes you try to tell a story with explicit symbolic density, and sometimes you try to capture the nuanced, ephemeral dimensions of sound and feeling through abstract form. None of the sets I perform at are pre-planned, so everything I do boils down to my interpretation of the music, in the moment. There are times when I worry that my interpretation isn't the "right" one, that I'm forcing a whole crowd of people to perceive and absorb things through an emotional lense that they don't enjoy (Have these demonic, distorted faces been on here too long? Or does the DJ want to take people down a dark path?). It's certainly a balance between playing what feels authentic and what the crowd wants, something DJs know all too well. One challenge lies in the lack of visual cues (ironically) a DJ can look for dancing or bobbing heads to vibe check the crowd, but the only cue I get is the occasional moment when someone looks me directly in the eye, with either gratitude or discomfort.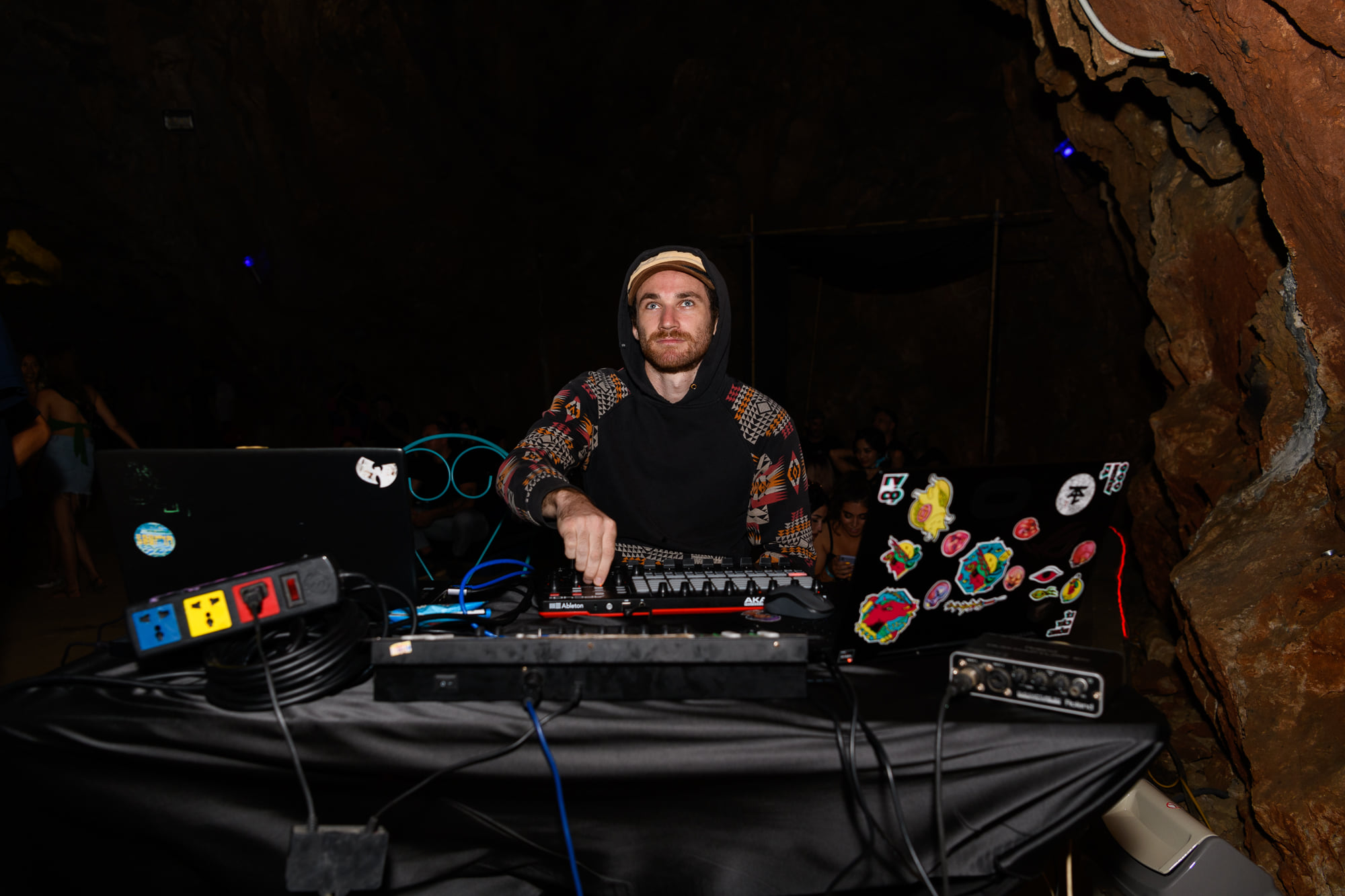 What do you think is the influence of your work in the thriving music scene in Vietnam? (We see how the visuals in the underground scene are more and more present and important to complete the experience)
Lian: I believe that when Travis and I started out putting on visuals in the Hanoi clubs we brought something new to the scene. A lot of times when a club puts on visuals it's like mandala/LSD inspired repetitive visuals that are just there so something is moving. We started collecting film clips, animations and all kinds of weird, trippy and abstract videos that we mix and mash. Much like a DJ would with music. With our visuals we elevate the DJ. The music is still the main focus of the show of course. But the right visual can strengthen the mood that the DJ wants to bring across and improve the whole experience. I have seen many times that people at the party who wanted to take a break from dancing just sat down and watched the visuals for a while. I call it techno cinema.
Travis: I do notice more and more people trying to include visuals at live events, but beyond that I've seen extra attention placed on the promotional side as well, with loops and animations becoming part of the event's identity before it's even begun. Additionally there's been opportunities to collaborate with some of the local producers and create visualizations for their work, and even integrate visuals into live and pre-recorded streams. It's hard for me to say how others have been influenced by my work, if at all 🙂
What is the best experience you had while working as a visual artist?
Lian: It is hard to pick the best experience. If we are talking about VJing/projection mapping then it was definitely the Cave Rave in Mai Chau by Savage. In the grander scheme of things I would say it was all the new places and countries I could travel too as a visual artist.
Travis: This is a really hard one to answer. Loads of events immediately jump to mind as being special to me, for different reasons. The most recent was the Savage event in Mai Chau, which, I mean, it was in a fucking cave. Getting to blast a giant projection onto a beautiful, ancient rock wall while people danced their hearts out to banging techno was a surreal experience to say the least. So many points throughout the night I had to stop and take it all in, with my jaw agape in wonder. I used this opportunity to try out a whole new suite of tools and techniques, and I was really happy with how they turned out.
On the flip side of this high-level production was Space Milk. This was an event that my close friends, including Lian and I threw, and we completely took over the space at Birdcage, decking out the ceiling, walls, and empty spaces with homemade arts and crafts and sculptures. We turned the back room into an art gallery to display a collection of paintings and drawings as well. We only had about 50 people show up, but after months of prep, we transformed Birdcage into a whole other world. Nothing beats getting creative with friends, and this one has a special place in my heart.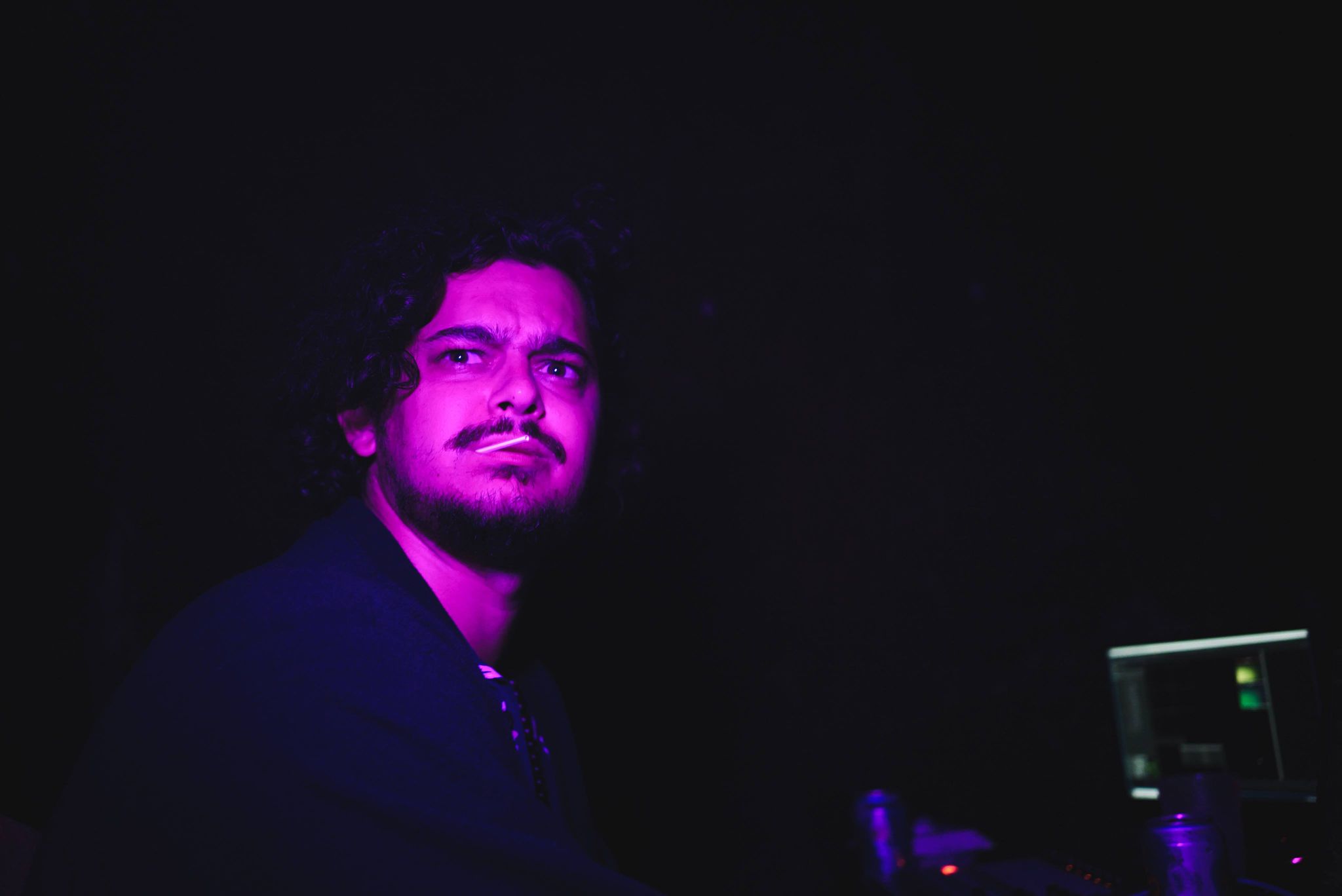 What is the direction for your personal goal and for the community to develop and create something new?
Lian: I wish for the community here in Vietnam to keep thriving and pushing the boundaries. I came to Vietnam in March 2020. So I only know this country in the time of the pandemic. But the things I have seen evolve here are really impressive. People want to get shit done and Vietnam is the place where you can get shit done. I really admire that. For me personally, I would love to work as a VJ/Projection mapper full time. But these days we are back in lockdown and it is uncertain when it will end.
Travis: As I mentioned earlier about exploring new tools and techniques, I've been interested in creating real-time, audio-reactive generative visuals. In a way, it's similar to having control over the environmental conditions of a petri dish, and observing how the fungi grow differently based on the parameters you change. For me this opens up exciting new ways to represent and capture the essence of sound. Personally, I would like to use this approach and work closely with producers to conduct a live, pre-planned audio-visual performance.
For the community, these are extremely tough times. Countless foreigners have been forced to leave the country due to abrupt, strict changes in visa policies. Many more have left due to the looming uncertainty that is COVID. For those who remain, it will be a struggle to survive. The venues, the collectives, all face a tentative future. This comes at a time when things were seemingly blossoming. 2020 was a really interesting period for the underground scene in Vietnam. No more touring DJs or big names or backpackers were coming through, which pushed the community closer and made the scene tighter than ever. To be honest, it felt like we were thriving, dancing while the world crumbled around us. But life caught up. It's hard to say when things will actually return to normal, but it will undoubtedly be a shadow of the promise we all felt. That promise is still there though, and when we finally take to the dancefloors once more, we will begin the process of rebuilding the dream together. I truly am hopeful for this phase, and I see the potential for this to be the beginning of something even greater than before, and an opportunity to address a fundamental issue: The underground music scene felt too much like a scene run by foreigners, for foreigners. I don't know what our future will look like, but it's gonna be fresh.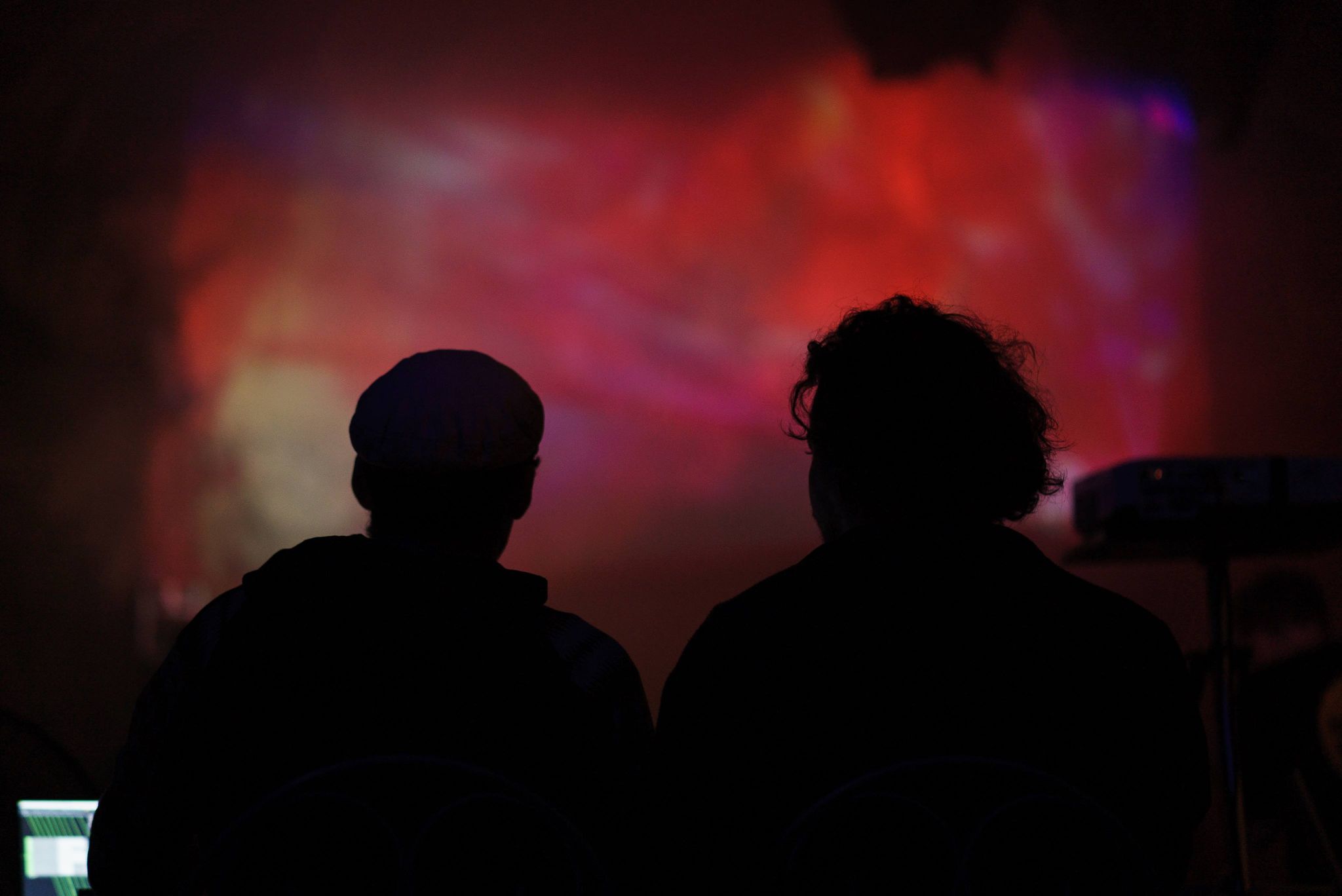 We can't forget to mention your recent project for Savage Re(treat) in Mo Luong Cave, is this your first time working together? Can you tell us more about how you manage to set up and work together during the event?

 
Lian:When I came to Vietnam in March 2020 I moved into Travis house. I never met him before but during the first lockdown we became really good friends and he showed me this new program he discovered. Resolume Arena. From then on we would explore Vjing together and give each other tips.After the first Lockdown we threw a little party at the birdcage with a couple of friends. There we would take turns Vjing. After that we mostly had independent gigs.
For the cave originally only Travis was booked but since it was a two night gig he brought me on board. The setup was very impressive and all Travis. He programmed music reactive visuals on his computer and hooked that up to my computer where I could add clips. Both signals would then go to the projector.
Travis: We haven't officially worked together too often, and prior to the cave it was usually just switching off as Lian mentioned. But the original lockdown in 2020 gave us plenty of time to VJ and explore the software together, while our other roommates would DJ and play music. I'm really glad Lian decided to move in with us, he's become such a great friend of mine, and a true inspiration to me. He had such a unique way of approaching the software that was completely different from my own, and I constantly found myself learning and taking tips from him.
For the cave event, we tried out a new approach to the setup. Typically, one of us would bring a laptop, and just run everything from a single source, and simply plug in both of our drives to have access to our material. The generative graphics that I wanted to run in Touchdesigner were too intensive to be able to run at the the same time as Resolume, so I ran an HDMI capture card from my laptop, into Lian's computer, where Reolume was running with all of our video files. This enabled us to use my Touchdesigner output as a single layer in resolume and blend with anything else we desired. A USB soundcard ran from the soundstage directly to my laptop, so that I could use crystal clear audio signals to drive my effects. I used an APC40 controller to manage the suite of different effects I had prepared. Using a midi controller makes the experience more tactile and engaging, and this also allowed Lian and I to work simultaneously, rather than just switching back and forth. This changed the dynamic quite a bit, and I think on the first night we struggled at moments with clashing directions. As I said before, vjing is an act of interpretation, and we are quite different in our creative tastes. We both just immediately jumped in and started producing what we felt, without stopping to think about how it would combine. The second night we communicated a bit more, vocalized what we were trying to achieve, and worked to support each other's direction, and I think it showed.
Lian: It was a bit of a learning curve in the beginning. Each one wants to have their visuals played. But once we realised that we were in this together for the long run we became more relaxed and listened to each other better. The second night was definitely better from our viewpoint. I don't think people in the crowd noticed a big difference between the two nights though.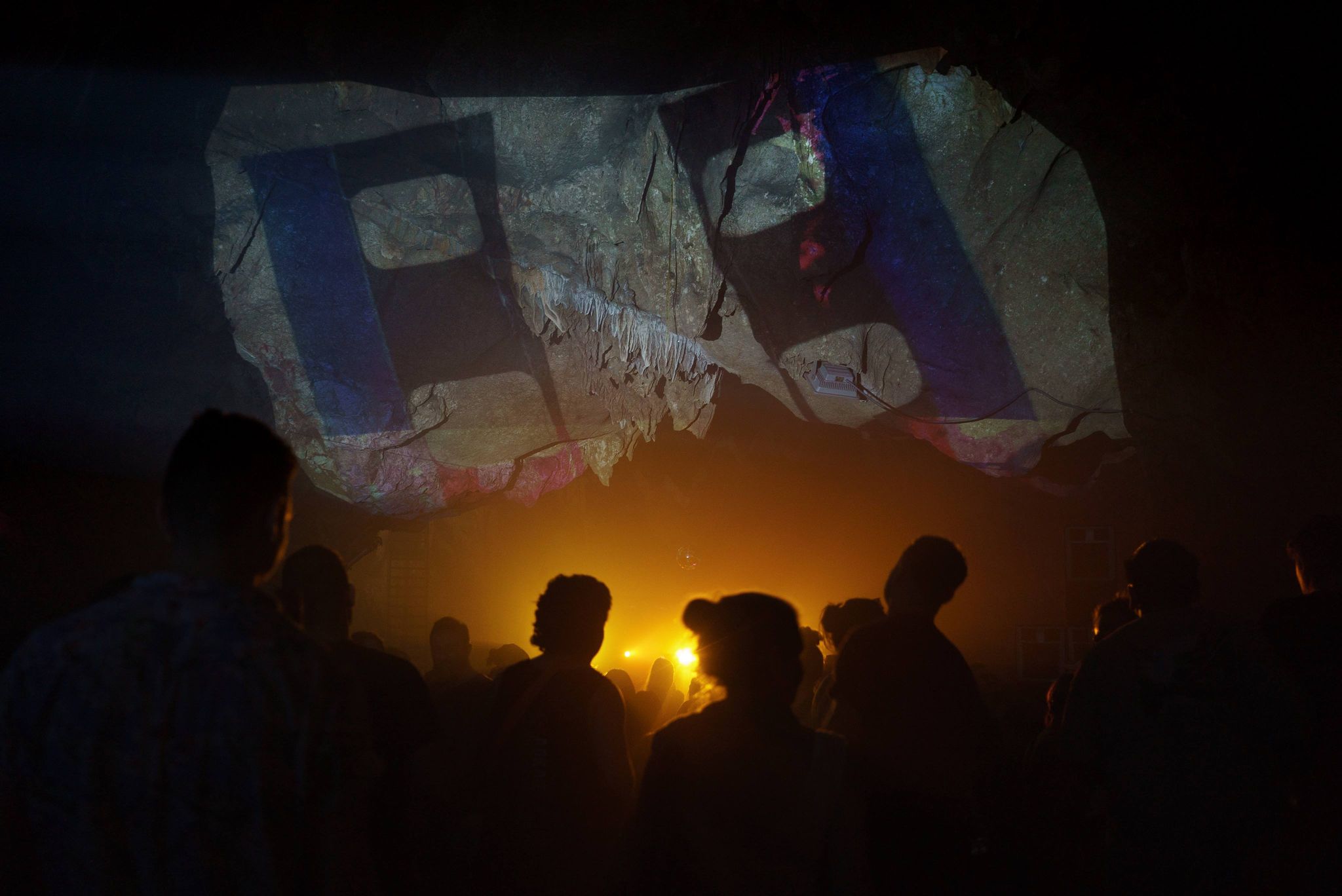 How did you enjoy your work and fun? Tell us about your best time you lived there. 
Travis: It was an absolute blast. It was the highest level of production and care I've worked with in terms of attention paid to the visuals. Finally we had a proper strong projector, and an elevated station where we could easily sit and see above the crowd. Dave and Brandon did a killer job in creating the right ambiance in the cave, and the whole weekend just felt magical and surreal. Lian and I spent a total of about 24 hours over two nights sitting in those two chairs, blasting colorful light at a rock wall, so it was a long and hazy journey to say the least. One of the moments that really sticks with me was during Dusan's set. He opened with this slow, atmospheric pounding bass kick. I had an effect that I hadn't found the right use for, but the second he began I knew this was it. With each punch of the base, a beam of light reached out and impacted the rock wall, making it ripple, and then shortly after the bar staff lit everything on fire and we were all transported to some delicious techno hell dungeon, with Lord Dusan as our master and caretaker.
Lian: Yeah I can only second what Travis said. The time we had in the cave was something else. All the gigs I had before were very makeshift setups, weak projectors and comparatively small projection size. And boom now we are in a gigantic cave with a proper setup and an amazing selection of Vietnam's finest DJs, who we are personal friends and have worked with before. It was a huge jump in professionalism that I will always remember fondly. And yeah Dusan the master blew me away that night.
2 of our artists Di Linh and Marco Yanes enjoyed the event and your visuals, did you have some specific moments that you remember and what the challenge at that time for you to create the perfect atmosphere during both sets? 
Travis: I remember Marco's set, it was towards the end of the night on the second day, so the bulk of the crowd had dissipated, leaving a small gathering of people on the floor. I recall his set feeling like a deep emotional dive. You could tell he wasn't trying to make people dance necessarily, but rather he wanted to take them on a journey. This was a chance for me to use a longer form animation with heavy use of dark fantasy and gothic imagery. Sets like this are easy to vj to, because they have so much character and emotion, and you don't have to worry about maintaining a "dancy" vibe. Its an invitation to get experimental.
For Di Linh's set, she was earlier in the first evening, holding it down with some acid techno, and the crowd was in full swing. Acid techno can be a fun genre to work with because it's full of energy, but also has this ludicrous side to it. So the challenge here was to make something that was sufficiently weird and wacky, but not so strange that it killed the energy by knocking people out of rhythm.
Lian: During Marco's set I lost myself a little bit. It was so intricate and sent me to places I didnt expect. Travis and I played probably the darkest visuals we had up our sleeves to end the two nights of the cave rave ritual with a bang. Big thanks to Marco for playing such interesting music at the end. It fit the environment and time perfectly.
And Di Linh rocked the house. I honestly don't remember what kind of visulas we were playing at this particular set but the crowd went wild for sure! It was all so fun. I am really looking forward to doing this again.